How can you show a floorplan to a client that is easy-to-read?
What We Receive for 2D Floorplans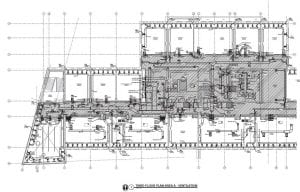 Although it can vary, we mainly receive PDFs that are the architectural or mechanical drawings for the building from our clients. These are usually the original plans for the building and can be outdated or incomplete. To most, this kind of drawing is difficult to interpret and includes all sorts of layers, making it nearly impossible to see the actual floorplan that lies beneath.

What We Do with It
Our CAD/Revit drafters can take these more complicated drawings/plans and remove or manipulate the layers in a way that makes the end-result clean and legible. Depending on our client's specific needs we can remove annotations, mechanical ductwork or equipment, etc. Certain long-time clients of ours choose to use specific colors or layouts, keeping all the projects we work on with them consistent.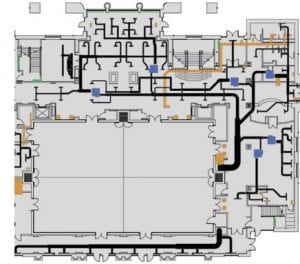 One of the harder aspects about trying to decipher original or outdated floorplans is identifying what you do and don't need. Many floorplan drawings include HVAC components that aren't needed in a simple, 2D floorplan. We can simplify those by using Illustrator and Auto Cad to take out certain line weights and color strokes.
What We Give You
The final product is a floorplan that nearly anyone can read. The details we include are completely up to the client, and our team can make any adjustments during the process that are needed. We can use our core standards for zoning or can cater to clients who want to zone themselves. Our goal overall, is to meet the needs and wants of every client to match their standards and to give them a floorplan that they can use inside their specific platform.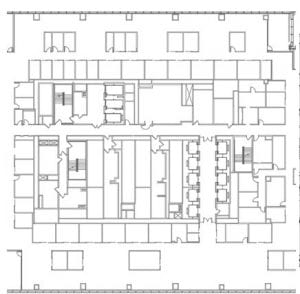 To View Our Package/Template Options Visit: https://www.qagraphics.com/floor-plans/